«
Personen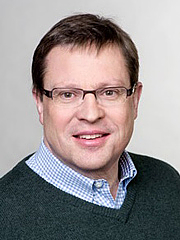 Prof. Dr. Michael Friebe
Prof. Michael Friebe is a German citizen with expertise in diagnostic imaging + image guided therapies, as founder/innovator/CEO/investor, and scientist. After a BSc. in electrical engineering he spend 5 years in San Francisco as R&D Engineer at a MRI + Ultrasound device manufacturer. He graduated with a MSc. in Technology Management from Golden Gate University, San Francisco and back in Germany obtained his PhD in Medical Engineering. He currently is an affiliate Professor at TUM, Munich; Professor at IHBI QUT in Brisbane; and professor of HealthTec Innovation at the medical faculty Otto-von-Guericke-University, Magdeburg, Germany. He is a listed inventor of over 100 patents, author of >300 papers, board member of four medical technology startup companies, and an investment partner of a MedTec investment-fund. From 2016-2018 he was a Distinguished Lecturer of the IEEE EMBS and very enthusiastic about innovation generation + entrepreneurship.
Neuigkeiten • Profil • Service
Vita
Dipl.-Ing. Nachrichtentechnik, Stuttgart; Master of Science - Management, San Francisco; Dr. rer. medic. Medizinphysik, Witten
5 years in San Francisco (UCSF / UC RIL / TOSHIBA MRI) as MRI R&D and Project Engineer / Product Manager
1993 - founded NEUROMED AG, the largest independent radiology / Imaging services provider in Central Europe
Started 15 more companies in Germany and other neighboring countries – all involved with Medical Imaging technologies
2001 trade sale of NEUROMED AG to UMS AG
Started TOMOVATION GmbH in 2003, investment / development and trading company in Medical Imaging (TOMOgraphy + InnoVATION). 2008 sale of the company to ALLIANCE Medical, Inc., Warwick UK - Michael left Alliance in 2011 as Managing Director Central Europe
Former board member of US publicly traded companies (INTRAOPMEDICAL, Inc.; BIOPHAN, Inc.; Mobile PET Systems, Inc.)
Currently Vice-Chairman of SURGICEYE GmbH (http://www.surgiceye.com), advisory board member of PIUR IMAGING and MEDINEERING
Germany's Business Angel of the year 2011
Non-operational Venture Partner of FRIIH Investment Holding GmbH and FVW Investments for Health GmbH&Co KG, currently invested in 11 medical technology start-up companies in Germany (Munich, Berlin, Cologne, Bochum)
Rudolf-Diesel-Industry-Fellow of the Institute for advanced Studies TU München and affiliated Professor at TUM-CAMP
Honorary Professor of Biomedical Engineering at MISR University (http://www.must.edu.eg), Cairo (6th of October City), Egypt
Professor at the IHBI of QUT, Brisbane, Australia
>100 national and international patent applications as lead inventor
IEEE EMBC Distinguished Lecturer 2016-2018
IEEE ACCESS Associate Editor, Biomedical Engineering
Expertenprofil
Diagnostic Imaging Systems - particularly MRI and Ultrasound
Development of electro-mechanical systems and tools for minimal invasive imageguided therapies with US, XR, MRI, NUK (e.g. biopsy devices, injection and ablationsystems)
Combination (hybridization) of different diagnostic modalities to optimize therapies - e.g. minimal invasive work environment
Catheters and devices for the therapy procedures under image guidance -e.g.intraoperative radiation therapy / cryo ablation, intelligent monitoring and staging,tracking and navigation systems
Intelligent catheters, implants, and tools for Neurosurgical, Vascular, Oncology, and Orthopaedic applications
Robotics in combination with imaging and therapy
Translational concepts and Innovation Generation for Image Guided Therapies
Patent and IP Strategies
Public Lecturer on Innovation Generation for MedTec applications
Public Lecturer on Exponential Technologies and their impact on healthcare development (3D Print, mHealth, Machine Learning, Big Data, Imaging, Synthetic Biology, Gene and Stem Cell Therapy, Minimal Invasive Therapies)
Serviceangebot
- Innovation for MedTec and Therapy products together with Clinicians
- Development of Minimal Viable Products to show feasibility
- Market information and regulatory approvals for CE, FDA, CFDA
- Future Medical Technology Development Strategies
- Service and Business Concepts  
- IP Strategy
- Exponential Organization Ambassador, Coach, Trainer
- Scaling-Up Expert
- Serial Entrepreneur and Start-Up Geek
Forschergruppen • Projekte • Schutzrechte • Kooperationen
Projekte
Die Daten werden geladen ...
Kooperationen
IDTM: easyJector
IDTM: MagRemon
Capical GmbH
Brainlab - Intra cranial tracking
Eckert & Ziegler Strahlen- und Medizintechnik AG, Berlin - Seed Imaging
VISUS Technology Transfer GmbH, Bochum - Pipe Imaging
medineering GmbH, Seefeld
PIUR Imaging GmbH, Düsseldorf - Sensor Tracking
Olympus: RFA, Resectoscope, Endoscopy
IDTM: MagRemon, easyJector
GBN Systems GmbH
FLEIMA-PLASTIC GmbH
GE, Ultraschall, Wisconsin, USA
HNO Klinik, OvGU, Prof. Christoph Arens
Universitätsklinik Jena, Nuklearmedizin, PD Martin Freesmeyer
Jun.-Prof. Christian Hansen, OvGU
Isotopen Technologie München - ITM AG
Heppe Medical Chitosan GmbH, Halle
Max Planck Gesellschaft, Leipzig -- EMMOTRAC
SPINLAB GmbH, Leipzig
MICROVISTA GmbH, Blankenburg
COVIDIEN, Halberstadt
NETCO GmbH, Blankenburg
EMATIK GmbH, Magdeburg
PRIMED GmbH, Halberstadt
Innovative Tomography Products, ITP, Bochum
Surgiceye GmbH, München
Prof. Dr. Martin Skalej
Queensland Technical University, Brisbane, Australia - Prof. Dietmar Hutmacher
Klinikum Osnabrück - Radiologie - Prof. Bernd Tombach
KAIST - Quantum Beam Engineering Lab - Prof. Sung Oh Cho
Universitätsklinikum Giessen Marburg - Radiologie - Prof. Gabriele Krombach
TU München - CAMP - Prof. Nassir Navab
Siemens Healthineers, Innovation Think Tank, Prof. Haider
ExoExecute, Canada, Ken Merkel
ONCOBETA, Herr Vetter, München
AGH University Krakov, Biomedical Engineering
Intuitive Surgical
Universitätsklinik für Allgemein-, Viszeral-, Gefäß- und Transplantationschirurgie (KCHI), Prof. Dr. med. Croner
OVGU Magdeburg, Universitätsklinik für Dermatologie und Venerologie (KHAU), Prof. Dr. med. Harald Gollnick, Emeritus
OVGU Magdeburg, Fakultät für Informatik, Prof. Ortmeier
Universitätsklinikum Magdeburg, Institut für Pathologie
FRANKA EMIKA GmbH
Crystal Photonics GmbH
OVGU Magdeburg, Haus 60a Haus 60a 1 / 5 Prev Next Universitätsklinik für Allgemein-, Viszeral-, Gefäß- und Transplantationschirurgie (KCHI), Prof. Croner
OVGU Magdeburg, Universitätsklinik für Strahlentherapie
OVGU Magdeburg, Universitätsklinik für Hals-, Nasen- und Ohrenheilkunde, Kopf- und Halschirurgie (KHNO)
digomed: medical IT solutions GmbH
BLOXTON Investment Group
VISUS Industry IT GmbH
OVGU Magdeburg, Universitätsklinik für Kardiologie, Angiologie und Pneumologie (KKAR)
OVGU Magdeburg, Universitätsklinik für Herz- und Thoraxchirurgie (KCHH)
Piur Imaging GmbH, Austria
Visus GmbH Bochum
Brainlab AG München
GBN Systems GmbH Buch
OVGU Radiologie, Prof. Fischbach, Prof. Pech
TU München, Klinikum Rechts der Isar, Prof. Hubertus Feussner
Johns Hopkins University, Baltimore, USA, Prof. Emad Boctor
Vanderbilt University, Nashville, USA, Prof. Robert Webster
ITP GmbH, Bochum, Dr. Heinz-Werner Henke
ACMIT Wiener Neustadt
MOXTEK Inc., Salt Lake City, USA
ENDOSMART GmbH, Stutensee
Prof. Dr. Martin Schostack, OVGU Urologie
Prof. Dr. Harald Gollnick, OVGU dermatologie, Emeritus
Onkodermatologie, Justus-Liebig-Universität, Giessen, PD Dr. Daniela Göppner
VISUS GmbH, Bochum
MR:comp GmbH, Gelsenkirchen
Queensland University of Technology, QUT, Brisbane, AUS, Prof. Dietmar Hutmacher
SPINPLANT GmbH, Leipzig
isys Medizintechnik GmbH, Kitzbühel
Olympus, Hamburg
Brainlab AG, München
Städtisches Klinikum Magdeburg
Orthopädische Universitätsklinik, Magdeburg
Brainlab AG
Fraunhofer ISST
Universitätsklinikum Essen, Kardiologie