«
Personen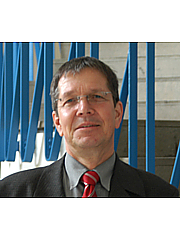 Doz. Dr. Wilmjakob Johannes Herlyn
W.J. Herlyn is mainly concerned with the question of how complex and multi-variant products can be logistically controlled in international networks. For this purpose, he has developed new approaches based on ideal Boolean algebra, which enables consistent and rule-based production planning and scheduling (PPS). The control of material flow objects bases on the production and material flow structure using the Boolean Interval Algebra. The regulation algorithms use the closed loop control principle for well-defined Counting Points. In contrast to the GROSS-NET method of today's ERP/MRP-Systems, he prefers the ACTUAL-TARGET method for Material Requirements Planning (MRP) and Master Production Scheduling (MPS). Since the emergence of Industry 4.0, he has been working on the concept of a "Digital Control Twin" (DCT) in order to eliminate the weaknesses of the MRP-II concept and to use the new technologies of Industry 4.0 (RFID, Big-Data, AI/BI, Digital Analytics, Cyber-Physical-Objects).
Neuigkeiten • Profil • Service
Vita
Wilmjakob Johannes Herlyn was born in 1952 as the fourth of six children of a pastor's family in Leer/East Frisia. In 1971, he graduated from the old-language branch of the humanistic Ubbo-Emmius-Gymasium in Leer. He then studied social and economic sciences at the Georg-August-University in Göttingen, where he graduated in 1975 with a degree in economics.
After several months of further training: EDP in the commercial and technical field at the Taylorix Institute in Kassel, he did his civilian service at the Chair of Medical Documentation and Data Processing' (MDV) at the University Hospital of Göttingen under Prof. Ehlers, where he was responsible for statistical evaluations of medical data at the University Hospital of Göttingen and the statistical supervision of doctoral students of the chair.
From 1980 to 1982 he was a research assistant at the Gesellschaft für Konsum- Markt- und Absatzforschung (GfK) in Nuremberg. His main focus was the further development of statistical procedures and evaluations with the help of EDP as well as the introduction of evaluation procedures in media research.

In 1982 he moved to Volkswagen AG, where he was appointed to the management. Over the years, he held various positions in the business units System Analysis, Purchasing and Materials Management, CKD, Production, Sales and Group and Brand Logistics.

In addition to his professional activities, he earned his doctorate in 1989 at the Technical University of Braunschweig under Prof. Engeleiter and under Prof. U. Berr at the Institute for Manufacturing Engineering and Corporate Research (IfU). The dissertation: On the problem of mapping variant-rich products in the automotive industry was published in 1990 as a VDI research report.

In 1994 he obtained the certified degree for the Operational Management Program at the Centre Europeen d'Education Permanente (CEDEP) of the Business School INSEAD in Fontainebleau/France.

In the course of his professional career in the VW Group, he was responsible for numerous international projects as a project manager for system analysis, procurement, CKD, production, sales, customer club and logistics, including the following topics: technical information, determination of requirements, CKD processes and systems, quality management in logistics, just-in-time implementation, vehicle and assembly control, customer service information tools and systems, work plan, parts lists, SAP system implementation.

After teaching assignments at the University of Braunschweig (chair of Prof. Spengler) and Paderborn (chair of Prof. Dangelmaier), he has been a lecturer at Ostfalia University in Wolfenbüttel since 2006, initially with a focus on logistics and logistics information systems and then with a focus on order management and workflow 'in the master's degree program in sales management.

Since 2012 he has a teaching assignment in the master's program Industrial Engineering and Logistics of the Otto-von-Guericke University Magdeburg for the Integrated Lecture Course: Supply Chain Practice and Enterprise Resource Planning Systems. He regularly supervises bachelor and master theses at the Chair of Logistics and focuses on research topics: Digital control twin, rule-based production and material control, determination of parts requirements with cumulative quantities as well as mapping the production and material flow based on the mathematical theory of Boolean algebra.

He is a member of the Society for Operations Research e.V.  (GOR), where he is involved in the working groups: Supply Chain Management, Project Management and Scheduling and Business Informatics. He is also a member of the Bundesvereinigung Logistik (BVL), where he helped develop the concept and program for the Corporate Automotive Logistics Academy (CALA) for DHL, among other things, and was a multiple moderator at the Forum Automobile Logistics. He supports the "Stiftung Allianz für Entwicklung und Klima".
 
He is the editor of a textbook on "Production Planning and Scheduling (PPS) in the automotive industry" and author of numerous specialist publications. In addition, he is a guest lecturer at various universities and a regular speaker at symposia, scientific conferences and moderator of specialist congresses.

He is married and father of two daughters and one son.
Expertenprofil
Concept of a "Digital Control Twin"  and Smart Logistics Applications
Design of Product-Configurators based on ideal Boolean Sets 
Design of expanded networks based on ideal Boolean Interval Algebras and Boolean Tree-Algebras
Rulebased Production Planning and Scheduling (PPS) of Complex Product Variants
Rulebased Material Requirement Planning (MRP) using the principle of Closed-Loop-Control 
Process Control and Order Instructions  on the principle of Cumulative Quantities
Individualization of "Owners Manual"  and Repair and Maintenance Information
Design of Configurable Bill-of-Material  ("Complex-BoM", "Super-BoM")
Serviceangebot
Optimization of Production Planning and Scheduling (PPS) by rulebased methods
Design and introduction of Digital Control Twin for production, supplying, logistics and distribution
Design and optimization of product configurators (e.g. vehicles, bikes, …)
Consulting for the introduction of configurable/rule-based Bill-of-Material (BOM)
Workshops for the strategic orientation of logistics in the context of industry 4.0
Workshops on quality management in logistics and commercial processes
Consulting for integrated parts list systems: from design to production over sales to customer service
Developing concepts and implementing processes of integrated and multi-modal supply chains
Introduction of an integrated container management and control of container cycles

Industrial Projects :
Participation of the Manufacturing, Supplying and Disposition System  (Fertigungs-, Beschaffungs- und Dispositions-System: FEBES)
Design and introduction of aggregated Material Requirement Planning (MRP) using the concept of Cumulative Quantities (Fortschrittszahlen)  
Design and introduction of singulary Material Requirement Planning of final product variants  
Introduction of Quality-Management-System for CKD and Logistic Department (ISO-2000)
Introduction of Quality-Management-System for CRM-Department (ISO-2000)
Implemention and Optimization of JiT/JiS -Applications for complex Modules and Assembly Groups
Design and Implementation of a Planning and Monitoring System for reusable Container and Racks  
Design and Implementation of "factory-oriented" Bill-of-Material
Design and Introduction of a System for a individualised "Owners Manual" based on a SGML/XML