«
Personen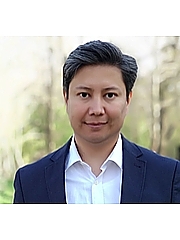 Profil
Vita
Professional Career
2019 - 2020

Visiting Assistant Professor on Global Environmental Governance
Department of Ecology
National University of Uzbekistan

2019

Visiting Scholar at the Center for Behavior, Institutions and the Environment
Arizona State University

Since 2019

Research Fellow
Earth System Governance Project

Since 2018

Communications Officer for IASC Europe
The International Association for the Study of the Commons

Since 2016

Senior Research Fellow
Department of Agricultural, Environmental and Food Policy
Martin Luther University Halle-Wittenberg

2012-2016

Research Fellow
Chair of Landscape Economics
Technical University of Berlin

2011-2012

Programme Assistant
Governance Team
United Nations Development Programme Uzbekistan

2009-2011

Project Assistant
Governance Team
United Nations Development Programme Uzbekistan

2009

Community Mobilizer/Communications Officer
Disaster Risk Reduction Project
World Vision International – Uzbekistan

2007-2008

Project Coordinator
Environmental Education
NGO Environment for Healthy Life, funded by British Council

2006-2007

Local Coordinator
Partnership for Community Engagement and Sustainable Development
NGO Environment for Healthy Life, funded by European Commission

2006-2007

Program Development Assistant
Capacity Building of the Youth Parliament
NGO Environment for Healthy Life, UNICEF Uzbekistan
Educational Background
Ph.D.

Technische Universität Berlin, Chair of Landscape Economics
Thesis: "Making benefit sharing a success: multi-level institutional analysis of benefit sharing in managing shared water resources, a case from Central Asia"
Degree awarded: Dr. rer. oec. (2016) (With Honor)

M.Sc. (dual)

The University of Manchester and Central European University
Joint Master Program in Environmental Sciences and Policy
Degree awarded: Dual M.Sc. Degree in Environmental Sciences and Policy (2009)

Master

Tashkent Institute of Architecture and Construction
Department of Economics
Degree awarded: Master's Degree in Economics (With Highest Honor) (2008)

Bachelor

Tashkent Institute of Architecture and Construction
Department of Economics
Degree awarded: Bachelor's Degree in Economics (With Highest Honor) (2006)
Teaching
Since 2017

Lecturer
Department of Agricultural, Environmental and Food Policy
Martin Luther University Halle-Wittenberg, Germany
Teaching Master level course "Methods of Institutional Analysis and Policy Evaluation: Understanding and Application of Social Research Methods"(AGE.05949.02)

Since 2017

Lecturer
Department of Agricultural, Environmental and Food Policy
Martin Luther University Halle-Wittenberg, Germany
Teaching Master level course "Natural Resources, Agricultural and Environmental Policy III: Global Environmental Policy and Sustainability Governance" (AGE.06309.01)

Since 2015

Guest Lecturer
Department of Agricultural, Environmental and Food Policy
Martin Luther University Halle-Wittenberg, Germany
Teaching in Master level course "Natural Resources, Agricultural and Environmental Policy II: Water Governance", topics covered - Transboundary Water Competition/Collaboration, Governance of Multipurpose Use: Drinking Water and Sanitation Services in Developing World

2016

Guest Lecturer
Summer University organized by Evangelisches Studienwerk
Course "Reallocating water: Departure for sustainable development" (original: B2/ Wasser neu verteilen: Aufbruch in eine nachhaltige Entwicklung), using a simulation game to understand water diplomacy

2015 and 2016

Guest Lecturer
Chair of Landscape Economics
Technische Universität Berlin
Taught in Master level course "International Environmental Policy", topics covered - Problems of Shared Water Management: Economics, Political, Legal Perspectives, and Simulation of Negotiation: Complex Case with Complex Decisions

2007-2008

Teaching Assistant
Department of Economics
Tashkent Institute of Architecture and Construction
Taught an undergraduate course on Macroeconomics
Awards 
| | |
| --- | --- |
| 2019 | @ward for the best multimedia-supported and innovative teaching in the course "Methods for Institutional Analysis and Policy Evaluation: Understanding and Application of Social Research Methods", annual award competition organized by @LLZ at Martin Luther University Halle-Wittenberg |
| 2016 | "The Takasao Memorial Prize" awarded for the contribution to the water diplomacy research at the 7th International Conference on Water Resources and Environment Research, 5-9 June 2016, Kyoto, Japan |
| 2012-2016 | Full DAAD Fellowship for Doctoral Research in Economics at Technical University of Berlin |
| 2011 | Team Awards "Commitment to Gender", "Innovation of the Year", "Best Programme Team", United Nations Development Programme Uzbekistan |
| 2010 | "Best Project Assistant", United Nations Development Programme Uzbekistan |
Expertenprofil
Dr. Ilkhom Soliev is an institutional economist with research focus on governance of common pool resources. His work in research, education, and development has focused on the study of sustainable and equitable natural resource governance and effective institutions. He has studied and developed empirical and theoretical foundations of benefit sharing as a governance approach to managing shared water resources in Central Asia, documenting and analyzing over a century-long data. As a Senior Researcher and Lecturer at the Martin Luther University in Halle-Wittenberg, Germany, he focuses on examining transformative power of benefit sharing using new methods across multiple natural resource domains of water, land, biodiversity and climate, as well as in various cultural and political contexts spanning from Central Asia and the wider post-Soviet region to developed countries such as Germany and the United States.
Projekte • Kooperationen
Projekte
Die Daten werden geladen ...
Kooperationen
Cranfield University, Dr. Robert Grabowski
Roehampton University, London, Prof. Jeremie Gilbert
Roehampton University, London, Prof. Anne Robertson
Roehampton University, London, Dr. Neil Williams
University of Strathclyde, Großbritannien, Dr. Saskia Vermeylen
Cranfield University, Großbritanien, Dr. Robert Grabowski