«
Personen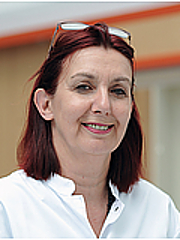 Profil • Service
Vita
| | |
| --- | --- |
| Since 05/2017 | Head of the DKG-certified Krukenberg-Cancer Center Halle University Hospital Halle (Saale), Germany |
| | |
| --- | --- |
| 28.06.2001 | Specialization in Internal Medicine (FACHÄRZTIN für Innere Medizin) (Sächsische Landesärztekammer; Germany) |
| 18.06.2003 | Subspecialization in Hematology and Oncology (Sächsische Landesärztekammer; Germany). |
| 23.06.2015 | Awarded the degree Dr. med. from the Faculty of Medicine/University of Leipzig |
| 26.01.2016 | Habilitation; Medical Faculty; University of Leipzig |
| 24.02.2016 | Ass. Professor of Internal Medicine and Hematology |
Expertenprofil
Clinical research  [Myeloid Neoplasia (AML/MPN)].
Design and conduct of clinical trials (phase I-III) including Investigator Initiated Trials (IIT).
Head of international trials in Germany.
Member of Steering Committees of international trials.
 
Current translational projects
AML: the prognostic relevance of epigenetic dysregulation in a sequentiel and response-adapted approach with hympomethylating agents and chemotherapy in elderly patients with AML in the own multicenter IIT- RAS-AZIC OSHO # 083 trial (Sponsor University of Leipzig).
MPN: Somatic and germline "Phenotype-Driver" mutations in Myelofibrose.
Serviceangebot
Organisations Reviewer
Medical Research Council of the United Kingdom
National Research Council of Romania
Ministry of Health Italy
Royan International Research Institute (Iran)
Journals Reviewer
Blood
Leukemia
Annals of Oncology
British Journal of Hematology
International Journal of Hematologic Oncology

Expert opinion
Pharmacotherapy
Bone marrow Transplantation

Invited Educational sessions
Deutsche Krebsgesellschaft (DKG)
Deutsche Gesellschaft für Innere Medizin (DGIM)
German and Austrian Society for Hematology and Oncology (DGHO)
European Hematology Association (EHA)
International Eurasian Hematology Congress
International Congress on Stem Cell Transplantation and Cellular Therapies (COSTEM)
European Group for Blood and Marrow Transplantation (EBMT)
American Society of Hematology (ASH)
Forschergruppen • Projekte
Projekte
Die Daten werden geladen ...