«
Personen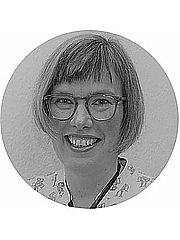 Neuigkeiten • Profil
Vita
Annette Strauch-Davey (M.A.) is a cultural scientist / European ethnologist and English literature and medieval studies scholar from the Georg-August University of Göttingen. She had lived in Cardiff and Aberystwyth in Wales for 15 years after her studies (including work at the Museum of Welsh Life and the National Library of Wales). For more than 10 years she has been interested in and dealing with the research data of scientists of various disciplines, also as an important part of her scientific work. At Ulm University, in the communication and information center (kiz)
she was part of the bwFLA team working on the implementation and development of a distributed framework for emulation-based services and technologies to address Baden-Württemberg state and higher education institutes', libraries' and archives' new challenges in digital long-term preservation. For the Collaborative Research Center 1187 and at the Center for Information and Media Technology (ZIMT) at the University of Siegen, she has worked intensively on research data management, where she came more and more into contact with the different requirements of the disciplines. At the University Library of Hildesheim, Annette Strauch-Davey was the contact person for RDM at the University of Hildesheim from the beginning of 2018 until the autumn of 2022 where she had built up RDM services from scratch. For many years, she was a member of the Commission for Research-Related Services of the VDB and there also dealt with Open Science and with the trustworthy handling of data of all types and formats.

Since October 1st in 2022 she has been working on an overall strategy for Otto-von-Guericke-University on the handling of research data as Lead Coordinator Research Data Management. In addition to that, she is now responsible as "Data Stewardship Coordinator" on issues related to the quality of data and data sources. The goal is to create research data management (RDM) services for all
scientists at OVGU that accompany the research process in their specific field, to continuously develop existing services, and to coordinate the operational services for science at OVGU in the best possible way and in all cooperations.